If you own or operate a cooking studio that features one-off classes, tailored cuisine experiences, or a multi-purpose kitchen (rented out for functions like private corporate events), you may have experienced difficulty attracting inbound traffic.
"Do I label myself as a cooking school? No, because people are going to assume I'm a licensed, certification-oriented facility". "Do I go for the cooking experience keyword? Yes, but given the low number of people searching for those keywords it will be best to pair it with other popular keywords".
After discussing concerns with some of our cooking experience partners we have decided to share some tips on how cooking event companies & cooking studios can increase attendance for its experiences. In this post, we will be going over three practices that can increase website traffic, better convert visitors into paying customers and strengthen your overall brand.
---
Choosing The Right Keywords (SEO)
When it comes to culinary experiences, three important KPIs to track are: the percentage of new vs repeat participation/month, new offerings vs repeat participation/month & new customer growth/month. For this section, let's focus on the last KPI as it directly relates to keywords and search engine optimization.
Click this link to learn more about SEO tips & tricks
Using keywords and creating a long-term SEO strategy is an important step towards increasing your inbound traffic. You should note that many companies wrongly assume that paying for sponsored ads through Google, Facebook & Instagram will guarantee attendance but that is only half of the requirement. Though important, organic SEO is the building block sponsored content needs in order to reach its maximum potential.
Here's what you should do:
1. Visit Moz.com and play with their Keyword Explorer Tool. This will help you identify which keywords your competitors are using to brand themselves.
2. Identify long-tail keywords that have potential for high monthly search volume, are unique and do not have a lot of competition (e.g. cooking classes events vancity, as opposed to cooking classes events Vancouver).
3. Use your designated keywords across your blogs, posts and content to let Google know who is king when it comes to those queries. Note: It's important to paraphrase and use your keywords throughout a piece of content.
---
Creating & Delivering Strong Content (Content Distribution Strategy)
The key word is relevance. When it comes to content, the first question you should ask yourself is whether or not you are using the most relevant platforms to reach your audience. You should never exclude a social media or content-sharing platform just because you are not familiar with it.
Consider the idea of neglecting Instagram even though 90% of your customers use it. This would be a considerable mistake as you are missing out on a platform your customers use very frequently. You should survey your existing customers to find out which social media and multimedia platforms they use and try to identify a common trend amongst them. This can also be as simple as adding a question to your online registration process – "Which social media platforms do you primarily use?".
Once you have established your dominant channels to push content through, focus on delivering meaningful content. Let's take a look at how Local Kitchen YXE has effectively used Instagram to create a strong base of followers:
Posts via Instagram
Local Kitchen YXE in Saskatoon has taken the approach of sharing relevant posts with its audience via Instagram. It's channel (@thelocalkitchen_yxe) has consistently delivered high-quality photos and information on things such as upcoming events, promotions, recipes, and guest features to keep their followers engaged. By sharing powerful content that is eye-catching and resonates well with its audience, they have been able to increase their bookings by 65% in 2017.
---
Using an Interactive Booking Calendar (Conversion Tools)
Last but not least, the common denominator of our best performing cooking class partners comes in the form of an interactive booking calendar. The idea of this dynamic reservation calendar is to enable website visitors to view upcoming events and classes (like Google Calendar) but also allow them to make paid reservations in one streamlined checkout process.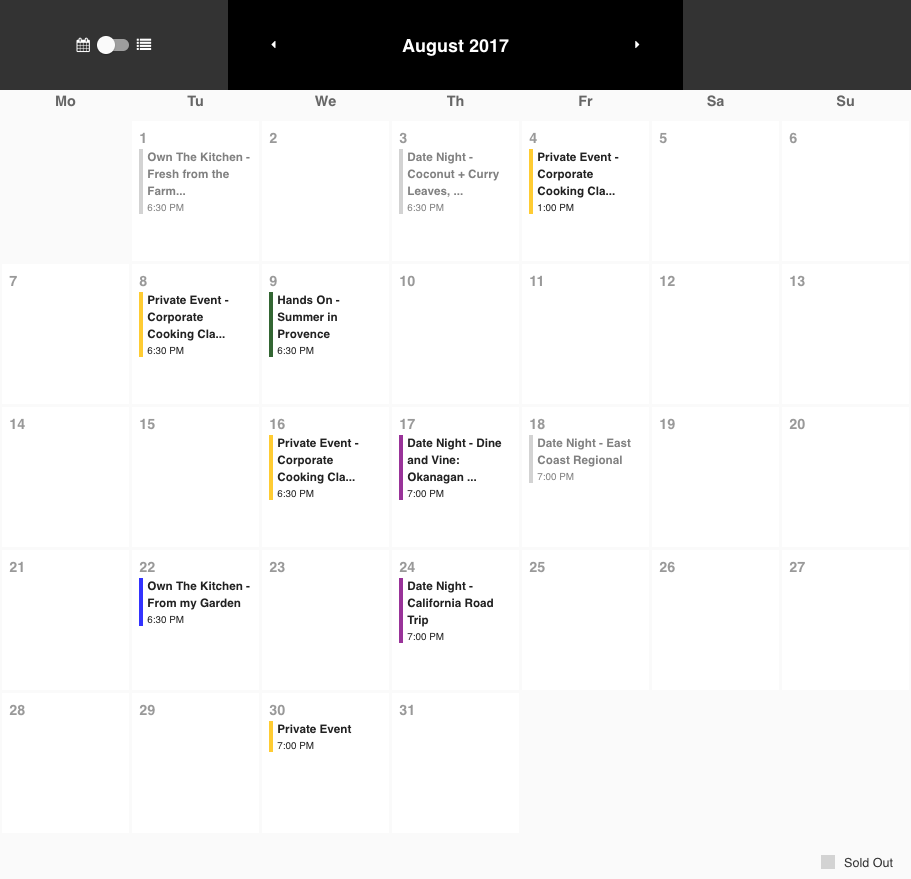 Click here to view a live booking calendar.
By allowing new & revisiting customers to book experiences directly online, a greater number of website visitors can convert into paying customers (vs other booking methods like phone calling and emailing). You should utilize all the tools at your disposal to secure a competitive edge on your neighboring competitors.
To read more about ways to increase cooking event participation, check out our blog on how to get more online sales.